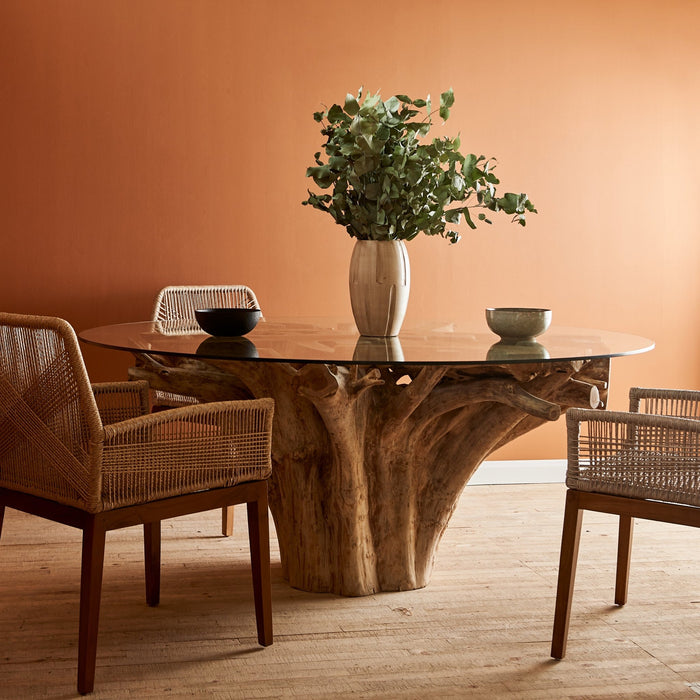 JAVA DINING TABLE
Original price
Dhs. 7,950.00
Original price
Dhs. 5,950.00
-
Original price
Dhs. 9,950.00
Original price
Dhs. 7,950.00
Current price
Dhs. 5,962.50
Dhs. 4,462.50
-
Dhs. 7,462.50
Current price
Dhs. 5,962.50
Captivating and practical, the Java dining table will be the center of attention in your living or dining room. Created from the root of teak trees, one of the most durable timber species in the world, this table features an organic root base that is as beautiful as it is strong. The top is finished with tempered glass for a smooth surface, making it easy to clean and maintain. With modern elegance, this table is perfect for both casual and formal settings—either way, you'll love how it blends well with your lifestyle.
Please note that this item is made from natural harvested teak root and variations may occur from picture in color and shape, due to the nature of the product
It is your responsibility to make sure that you have adequate approvals or permits for the delivery of your pieces, along with the correct space for the delivery of your items, inclusive of ensuring the product will fit through all necessary doors and lifts. Refunds will not be granted due to non due diligence of customer. 
Wood Culture reserves the right to add extra charges to the delivery if your location is in a remote area.
Dimensions:   Diameter 160 cm X Height 75 cm (4 to 6 SEATER)
                       Diameter 190 cm X Height 75 cm (6 to 8 SEATER)
                       Diameter 220 cm X Height 75 cm (8 to 10 SEATER)
All diameter dimensions provided are inclusive of glass diameter, as seen in the photo.