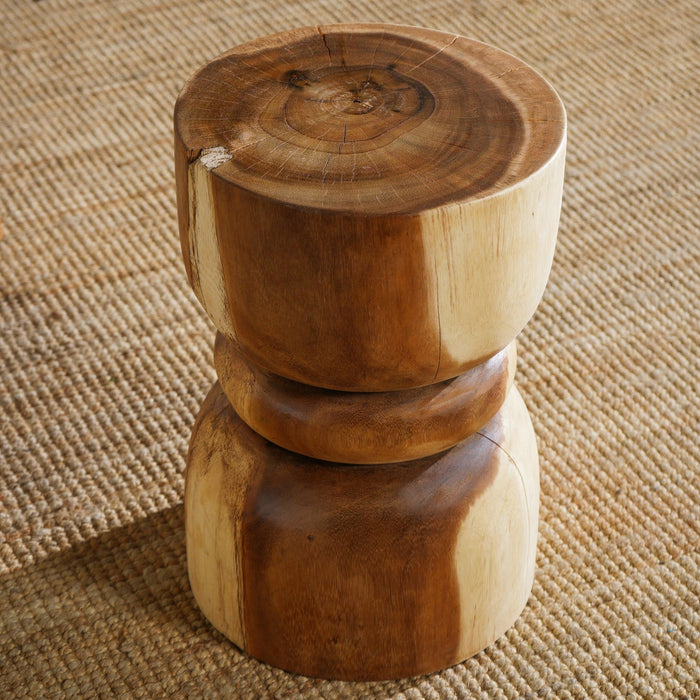 SAMARA WOODEN SIDE TABLE
Original price
Dhs. 750.00
-
Original price
Dhs. 750.00
Dhs. 750.00
-
Dhs. 750.00
Current price
Dhs. 750.00
Introducing the Samara Wooden Stool - a stunning ornamental and functional piece crafted from solid wood. Available in three distinct styles, this versatile stool can be used as an extra seating option or as a side table. The Samara Wooden Stool showcases the natural beauty of the heart and sap wood, creating a unique two-tone effect. Elevate your decor with the Samara Wooden Stool - a true masterpiece of design and craftsmanship.
Dimensions: Type 1: Top Dia 35cm XH46cm 
                      Type 2: Top Dia 35cmX H46cm
                      Type 3: Top Dia 30cm X H46cm
Important Note: Please be aware that the Samara Wooden Stool is crafted from natural wood, and as such, it may react to changes in its environment. Over time, cracks may develop as the wood ages. Please note that this is a natural process and does not affect the integrity of the furniture. Additionally, as each piece of wood is unique, the Samara Wooden Stool may vary in terms of wood grain and color. While our photos serve as a good guide, they are a reference only.
Availability:
Out of stock
Availability:
Out of stock
Availability:
Only 3 left!