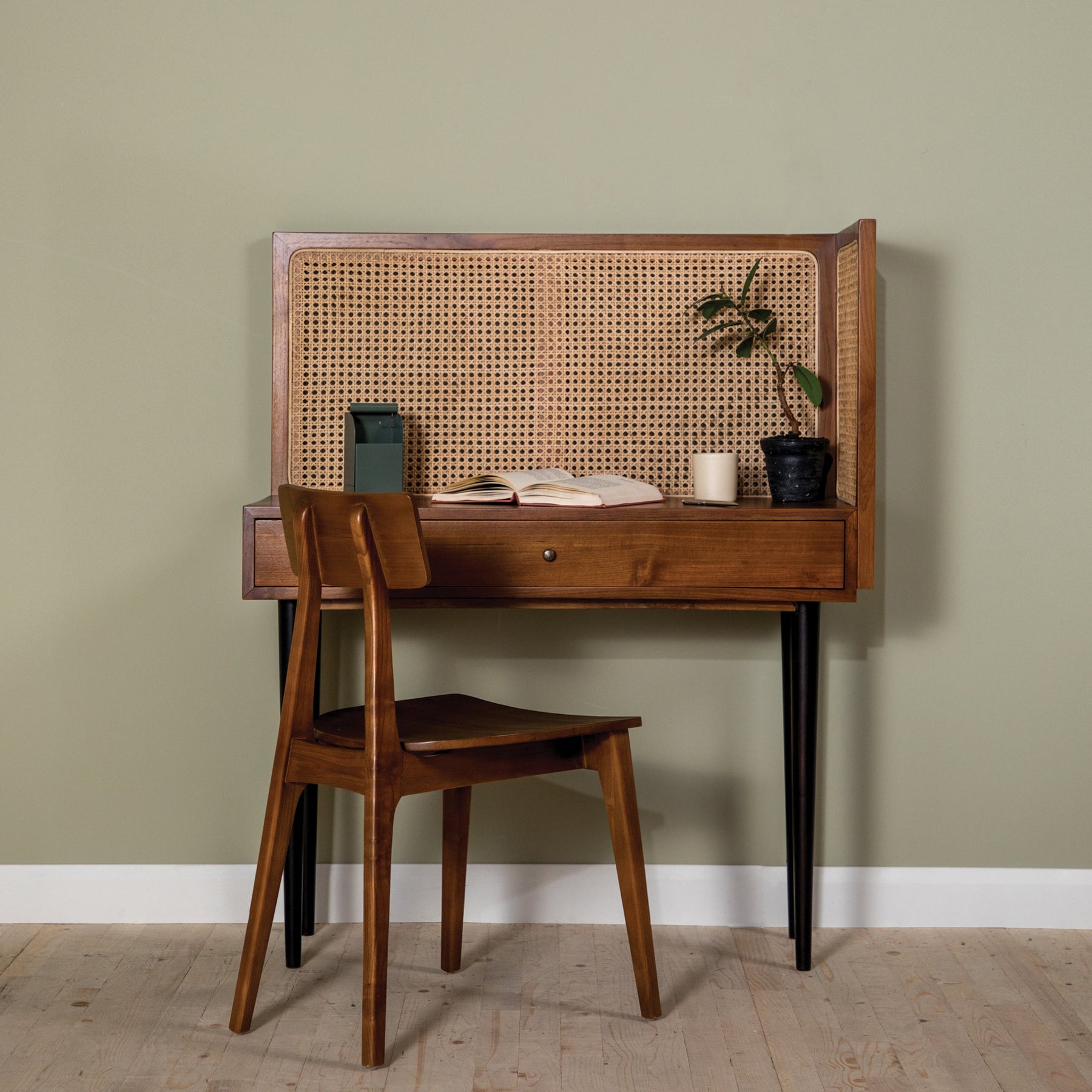 A Guide to Teak Wood and Ashwood and what they're best uses in your Homes.
Natural teak is known to be difficult to grow and is in high demand as it is considered "The king of the woods". Sourced mainly from Asia, its durability is what sets it apart. Being one of the most hard-wearing of the hardwoods, teak is the perfect material for both indoor and outdoor furniture. It's smooth grain and texture gives an elegance to the furniture and their growing conditions in Southeast Asia as well as its high level of natural oils, make it weather durable and rot-resistant. The Julio writing desk is as stylish and sturdy as they come. Made out of reclaimed teak, as well as natural spider weaved cane webbing this desk is the ultimate combination of style, practicality and durability.  A statement piece with ample storage that will integrate with numerous different interior design preferences for a classic and sophisticated look.
Julio writing desk
Because of its durability and weather resistance, teakwood is one of the preferred materials for outdoor furniture pieces. The Zapata dining chair is an example of how the heavy-duty wood can look stylish outside. Known to last for years both indoors and outdoors, Teakwood is an investment you won't regret.
Zapata dining chair
Ash wood is another popular material to use for furniture production. Being both flexible and durable, as well as having excellent screw holding and gluing properties, ashwood is a great choice for furniture. Common to have a straight grain and known to be a versatile wood that is easily stained and treated, it is an attractive option for home furniture. Ashwood is suggested to be used indoors as  there are more suitable outdoor woods (such as teak). Ashwood is dense as well as strong and is commonly used in both furniture and flooring designs.
The Myna cabinet is made from ashwood and is a refined design for both the bedroom and the living room. A generous size inside, it has the ability to contain (and conceal) messy miscellaneous items in the living room or neatly sort out clothes and shoes in the bedroom. Available in both the natural ashwood colour (pale brown) as well as black, you can be sure it will mesh with almost all design  styles. 
Myna Cabinet
Being the most versatile of the two, teak wood is perfect for use both indoors and outdoors. As the material used in numerous park benches around the world as well as countless indoor furniture options, it is a wood that really lasts the distance. Ashwood on the other hand, is another durable hard wood suited for indoor furniture use as is popular for its recognisable grain and soft finish. Speak to us, the experts at Wood Culture if you're ever considering investing in a wooden piece and we will help guide you as to what suits your needs most!
Happy Shopping!