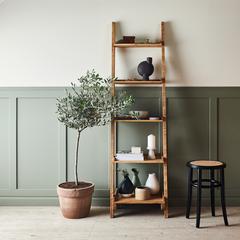 5 pieces of furniture that will make your house feel more festive!
Festive decorations create feelings of pure joy and happiness. Choose furniture in neutral tones such as walnut wood or cane as they are incredibly versatile and fit with numerous festive colour pallets. Here are five pieces of furniture that really know how to celebrate:
1. Mirrors
Mirrors help a space look sophisticated and balance out a room. By strategically placing a mirror in your dining room, it can make gatherings feel more festive as it doubles the amount of people present. Placed across from a Christmas tree or garland, it reflects the decorations and carries the festive cheer around the room. 
Fairy Ashwood Mirror
 
2. Lights 
The festive season is all about lights. Opt for warm yellow lights and fairy lights which add a subtle yet magical touch. Candles pair perfectly with yellow lights and are another great way to add atmosphere. Aromatic scents such as pine or cinnamon will make your space instantly more festive.
 Sola lamp
3. Console table
The Wood Culture JAVA console is a showstopper that is sure to create a traffic jam at your entrance. Handmade by teakwood, this mystical piece is a must for any setting. Place a green garland, a festive decoration and some fresh holly on your console table and you will smile every time you walk through your front door!
Java console

4. Stools
If you've never placed a stylish stool such as the Wood Culture PALSORA STOOL underneath the Christmas tree, you must! Place decorations or presents on top of it and by adding another layer of height you create a fresh point of interest. The extra elevation is also handy if you have a four-legged baby around who likes to explore! Not only that, if you're having people over for a celebration it can double as an extra chair if needed.
Palsora stool 
5. Soft furnishings
Whilst not technically a piece of furniture, soft furnishings are the easiest way to change up the look of a space with minimal effort and cost. Place some cushions on your couch and ornaments on your shelves in festive colours (think gold, red and green for starters) together with some fairy lights and green foliage and you're all set!
 Shiloopi ladder shelf
Choosing timeless, staple furniture pieces that work together is essential to ensuring your space effortlessly flows. The festive season is an opportunity to explore new colour palettes and furniture pieces that you can then integrate in your everyday interior design.
Happy Holidays from Team Wood Culture!